The "events" page contains a different slice of our activities.
www.globalgiving.org/projects/revive-altai-cultural-and-environmental-technologies/
Our 2006 Expedition was beyond magical—we are ALL still close friends, and our "peace-mapping" summit and environmental clean-up around Mt. Belukha are still talked about there. We will repeat these activities in the context of a horse-supported trek to sacred Mt. Belukha—place of miracles. This may be our last expedition, so if Altai calls you, please come! ... for more info, see 2nd International Altai Expedition & Environmental Clean-Up, July 14th to August 4th, 2011.
Altai continues to be the place of my heart, with my health and psychic clarity improving noticeably every time I'm here. On that basis, I'd relive every soggy, magical moment.
After uncertainty this spring about getting to Altai this summer, I am joyfully here again, but for just over a month this time—a short trip for me. So the miracles must be QUICK this time around!
PLANS IN JUNE
The villagers of Tyungur will be breaking ground for the new traditional healing center that will provide sustainable traditional livelihood for several young throat-singers, who will use the healing power of sound for villagers and for tourists. Because the healers will live there through the -30C. winters, a substantial structure is required. The land had been donated by the village administration and villagers will provide the construction labor. Svetlana Katynova figures that materials will cost $18,000, of which about $3500 has been raised thus far. This healing center is a significant step toward protecting the sacred lands near Mt. Belukha, because it strengthens the local indigenous community who are the stewards. Most of the current structures in the village are a legacy of Soviet collectivization, so this center will be a cultural lighthouse in many ways. If you can make a donation of any size, on-line, on JUNE 16th ONLY, it will be doubled!!! That's tomorrow. Click HERE to donate. Thank you hugely!!
Altai people understand and act in harmony with the voice of the wind and clouds, trees and rivers. The first step is to listen, of course. So in early July, I will trek again, solo this time, to learn to connect with the natural forces here.
Also in July, we plan a meeting at El Oyin, the biennial Altai national gathering, to enable American and European activists to hear what villagers are doing to re-vitalize traditional sustainable livelihoods—to better understand how we can be of service.
While we're nearby, I'll drop off a packet of beginning readers in English as requested for the school library in the village of Bo'ochi in the sacred Karakol Valley.
REPORT ON MAY ACTIVITIES
In May, we facilitated Svetlana Katynova's throat-singing healing center in Tyungur village—one such livelihood project—to receive a $2500 prize from the Fred Foundation for building materials. This is a big chunk toward the necessary $18,000.
In Seattle, in early May, we held two gatherings at the Daybreak Star United Indian Center in Seattle, both to support local Native American initiatives and to convey harmonizing resources to the public. The first was my playshop for archetypal mask-making. We knew we were on the right track when the long-time site caretaker kept coming in and exclaiming, "Nobody has ever done anything like this here!"
And the next day, we were fortunate to have extraordinary Dineh wisdom-keeper Patricia-Anne Davis teach the Ceremonial Change Process by taking us through it. As a partial in-kind trade with Daybreak Star, Patricia will now teach the process for their at-risk youth program.
We will offer these catalyzing events to the public again in the fall in Seattle, as well as to any groups in North America. Let us know if this time-tested Native American "technology" would be useful to your community.
And just before I left the US, I did a radio interview targeted toward the Beloved Community, a group of which I am a member, which explains what I'm doing with the Altai energy. Enjoy!
---

Most joyous May to you! What better way to celebrate your mother than to become more aware of deeper self and your connection with Mother Earth!

Please join us for several spectacular opportunities -- and pass the word to others:

Archetypal Mask-Making with Carol Hiltner
Saturday, May 8 - 5:30-9:30pm - Daybreak Star, Seattle - $35
♦ Shapeshift into an aspect of yourself who wishes to be heard
♦ Men, women, children welcome!
♦ See Mask-Making slide-show.

Ceremonial Change Process with Dineh wisdomkeeper Patricia-Anne Davis
Sunday, May 9 - 10am-3pm - Daybreak Star, Seattle, - $35
♦ Learn the ancient Dineh way to resolve your challenges so they STAY resolved!
♦ See interview from April 2010 Voice of Choices.

Healing Planetary Waters with Marshall Golden Eagle Jack
May 18 - All day - Wherever you are - Priceless
♦ Please join the global prayer for the healing of our life-giving waters!
ADVANCE NOTICE


2011 International Altai Expedition, Peace-Mapping Summit & Environmental Clean-Up
June 14-August 4, 2011 - Advance preparation required
♦ Dust off your hiking boots for a journey into pure magic!
SPECIAL ANNOUNCEMENT!
New Declaration of Global Indigenous Philosophy
Just yesterday, a global summit of indigenous leaders issued this profound declaration. Our esteemed colleague Danil Mamyev represented Altai.

---

"Laugh and the world laughs with you ..."
(Ella Wheeler Wilcox)
So, let's find joy this spring! I invite you to several opportunities:

Archetypal Mask-Making with Carol Hiltner
May 7 - 5:30-9:30pm - Daybreak Star, Seattle - $35
♦ Shapeshift into an aspect of yourself who wishes to be heard
♦ Men, women, children welcome!
♦ See Mask-Making slide-show.

Ceremonial Change Process with Dineh wisdomkeeper Patricia-Anne Davis
May 8 - 10am-3pm - Daybreak Star, Seattle, - $35
♦ Learn the ancient Dineh way to resolve your challenges so they STAY resolved!
♦ See interview from April 2010 Voice of Choices.

Healing Planetary Waters with Marshall Golden Eagle Jack
May 18 - All day - Wherever you are - Priceless
♦ Please join the global prayer for the healing of our life-giving waters!
ADVANCE NOTICE


2011 International Altai Expedition, Peace-Mapping Summit & Environmental Clean-Up
June 14-August 4, 2011 - Advance preparation required
♦ Dust off your hiking boots for a journey into pure magic!

---

Your powerful collective prayers are urgently needed!!!
We have just received news that the sacred Ukok Plateau in Altai is at risk of being re-opened for archeological excavation.
Basically, such excavations destroy the ancient earthworks called kurgans that Altai stewards say are FUNCTIONING MECHANISMS CRITICAL FOR PLANETARY BALANCE. Many have already been destroyed. Similar earthworks have now been scientifically shown to transmit cosmic energy into the Earth -- just as the shamans have been saying!
We have seen many examples of group prayers/meditations shifting a destructive pattern into a more life-sustaining situation. Please include the following affirmations into your meditations on MARCH 8th (International Women's Day) and MARCH 20th (Spring Equinox):
Sacred sites in Altai and around the world are recognized, honored, and protected.
Archeologists understand and respect the wisdom of the indigenous Earth stewards of Altai and around the world.
---

I'm not sure whether this is "the road less traveled" or the "world bridge" that we are collectively constructing. Maybe both!
We have several pivotal projects that need your support:
--- Land registration has been extended;
--- Sustainable traditional livelihood programs are getting going;
--- The healing center under construction needs building materials;
--- An heirloom book on Altai traditions needs funds for printing;
--- Clean-up of Mt. Belukha is underway for Summer 2010.
If you are able to donate in 2010, NOW IS THE TIME!
Your donation will be 100% MATCHED through April 15th.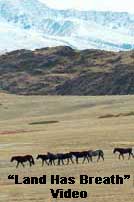 SACRED SITES

Check out the fabulous new video about sacred Altai!
By some miracle, the January 2010 deadline for Altai people to register their traditional lands has been EXTENDED 10 YEARS! But this is a cup half full, because at the same time, the yet unregistered traditional lands can be sold by the government with no recourse. So we are back to urgent, with hope to save those remaining lands, and with them the sacred Altai culture. Thank you for getting us this far, and Mother Earth will be extremely grateful for anything you can do for the next round.
Additionally, a major MAPPING campaign is now underway under Chagat Almashev's leadership to identify Altai's sacred sites so they can also be officially registered. These are different places than could be registered thus far. This is only partially funded, so help is needed here too.
SUPPORT FOR INDIGENOUS STEWARDS
In Ust Koksa region, near sacred Mt. Belukha, Svetlana Katynova is currently manifesting three important projects (beyond land registration):

Construction of a traditional sound-healing center on donated land in Tyungur, and mentoring of the healers as they finish their education and set up their practice. They need $18,000 for construction materials.

Completion of a five-year documentation project in the form of a guidebook of the history and lore of sacred sites in the Ust Koksa region.

Development of village "industry" cooperatives using traditional technologies. Coops wil produce organic honey, herbs, meats, woollens, etc., for both local and international markets.
In Onguday region, Danil Mamyev also has projects underway to strengthen the situation of the indigenous stewards:

A community center in Bo'ochi is the focus for an organic woolen and fleece clothing/blanket cooperative. Marketing help would be a valuable contribution ... see the catalog with photos and prices.

A very important multi-regional initiative is already underway to create and test curricula that are consistent with the indigenous world view, for use by both indigenous and ethnic Russian children. Promised funding is now in question. Additionally, beginning English-language readers have been requested for their school libraries.
---
I am standing on land that Svetlana Katynova's family has just purchased to build a new, environmentally friendly, traditional Altai home, high on a ridge above the wood-smoke haze of Gorno-Altaisk. Her current, centrally-located home will be used as a community center/hostel.
In celebration this weekend, Svetlana has invited family and friends, especially young children, to sow 65 kedr trees, which will germinate indoors this winter and be planted on Svetlana's land in the spring. Additional seeds will be planted in Tyungur. The kedr tree is sacred to Altai people, and is valued for its sweet pinenuts, fragrant oil, and rot-resistant wood. These trees will be a living heritage for future generations….see kedr-planting slideshow
Spirit moved me to make a quick trip to the Karakol Valley on Thanksgiving Day, and I was greeted with great generosity by Danil Mamyev and Joanna Dobson. We made an excursion to the Bashadar kurgans, and then enjoyed the evening together, but the highlight was a visit to the new community center in Bo'ochi village.
Village women are ramping up a cottage industry of beautiful, traditional wool, felt, and fleece products—sumptuous fleece/silk vests and comforters, woolen blankets, felt boots and slippers. The wool is cleaned with fermented sheep's milk, and no chemicals are used. The sheep themselves are unexposed to chemicals. And, these products are imbued with the powerful Altai energy, so they are indeed precious. If you have resources for marketing these products, or would like something yourself, please let me know.
My artistic masterpiece this month was a mural on the ceiling of a chai-house in Chendek village, Ust Koksa region. I am told that such a mural is completely novel in this part of the world. Perhaps it will spawn a new tradition….see Chendek mural
Give ART! Help ALTAI! Save 20%!
Altai art and photographs make wonderful holiday gifts. Besides being beautiful, they convey the Altai energy into whatever space they grace. All proceeds go to Altai Mir University projects. In December only, get a 20% rebate (credited back when you buy)!
Winter here is amazingly beautiful, although bitter cold. Occasionally, fog will coat everything with a thick layer of frost, which then drifts into the air and sparkles when the sun shines through it!….see Altai winter slideshow
---

I'm delightedly back in my beloved Altai until mid-December, clarifying next steps on the best ways for the global community to support sustainable economic development that enables the indigenous Altai stewards to continue caring for their sacred World Heritage .... read Svetlana Katynova's 6-year sustainable development overview

Next fundraising goal is a 4-year campaign to raise $18,000 each year to purchase building materials for two pivotal community centers in Tyungur. The land is provided, and locals will match your contributions with their labor and local resources. Details in overview, above. Consider an automatic monthly donation .... CLICK at left to make this happen


Or if more earthy goals appeal to you, contact me directly to help with $200 materials costs for the pit toilet at Mt. Belukha. Russian volunteers will build it in July 2010. If you join our 2011 International Altai Expedition, you can even use it!
Altai Mir University has just made a formal collaboration agreement with the UNESCO Leadership Chair at Siberian Academy for Public Administration in Novosibirsk, which means that most of our programs will now be under the auspices of UNESCO.
Amazing Ukrainian Vyacheslav Bronnikov, who teaches people to see remotely, access photographic memory, and use 90% of our brains, will be in California in November. We're planning a workshop series in Seattle in March .... see my Bronnikov interview in the current Spirit of Ma'at
(giggle) I "taught" two "Painting Light" playshops in Novosibirsk in October, with 2 more planned for December. People paint not only with their hands now, but with their feet and anything else that's convenient. Real freedom, joy, and creativity are unleashed! .... check out the latest "Painting Light" slideshows: in Novosibirsk and Akademgorodok

This is me, Carol, having found the rainbow's pot of gold at Lake Akkem (at the base of Mt. Belukha) this July. The magic of this place is transmitted even through the photo! We are planning another international expedition in July 2011. Please contact me at Carol@AltaiMir.org if this calls you.
Woohoo! Danil Mamyev's crucial "sacred land" registration project is now fully funded!
Huge thanks to all of you!! Contributions by numerous individuals, plus couple of associate NGOs in our informal Altai Alliance did the trick ... see report
Now we will focus on other aspects of Earth stewardship in Altai: cultural, economic, environmental. As the indigenous Altai people are supported to regain and strengthen their deep connection with Earth, the impact will be felt energetically all over the planet ... see Why Altai?
New Sacred Masculine paintings!
When I completed the 52 Sacred Feminine paintings last winter, I immediately knew that I needed to paint 52 Sacred Masculine paintings. As a woman, it was easy for me to embody the sacred feminine essences and paint them, but what about the sacred masculine?? ... read the story ... see the paintings

Build it, and they will come: Part I
AMU is now building a virtual library, posting or linking to documents, videos, and reports about Altai that otherwise might be lost. If you have anything to be archived, please send it! And our virtual catalog is the "search" function at the top of this page. (Newly posted material may not be immediately available, because Google has to find and index it first.)
Build it, and they will come: Part II
The pit toilet we had built two years ago at the crowded campground at the foot of Mt. Belukha has been so popular that a new one is now needed. Several groups of trekkers from all over Russia will convene during the last week of July 2010 to build a new, more capacious outhouse. AMU has promised to supply materials, tools, and encouragement. It will cost about $300, and your sponsorship will be greatly appreciated.

Land registration update
Thank you all, for donating another $2,500 in the past month toward the remaining $22,000 that is needed before year's end to secure the sacred Karakol Valley. Your individual donations and continued networking are what get us there, and are profoundly appreciated and powerful!

Please continue help us to hold the intention that the necessary funds are available. All the recent reports, with pictures and maps, are listed below.

Elo Cultural Festival
That's me in the traditional Altai dress (above), gleefully strumming a topshur -- a two-stringed instrument that usually accompanies throat-singing. I join a Kazakh warrior/musician at the Elo Music Festival in the Onguday Region. Event organizers dressed me up after I gave greetings from America to the international crowd -- in Russian! A sacred mountain rises behind me.
It turned out to be much more than music. At the main stage, singers and groups from all over Central Asia showed off their musical talents and glorious traditional costumes. Wrestling and whip-handling contests were held there too. At the hippodrome in the next valley, an intense horseback competition was waged ... video (made by Professor Michael Brody of Montana State University at Bozeman and Alexander Bogolyubov, Director of Ecocenter, near Moscow)

What is kai-chi?
The Altai people have three treasures. The first is kai, one of the oldest styles of throat-singing, preserved only in the Altai Mountains, through which the Altai oral tradition is passed, and which is developed by such gatherings. Performance of kai, or the person performing, are both called kai-chi ...more

Guest in an Altai Home
During the music festival at Elo, I was a guest in a traditional Altai home. Upon arrival, we all drank tea in the a'il, the traditional five- or six-sided wooden structure that anchors Altai households. I was told that, no matter how beautiful a home a family might have, the heart of the household is the a'il, where the dirt floor below and open smoke-hole above provide a constant reminder of the human place between Earth and Sky ...more

Matay Qara translation
Throatsinging of ancient epics, that goes on for days, is legendary in Altai. Such epics are not memorized; the singer channels the sounds from some deep cultural memory. The sounds are then transformed directly into images in the listeners' minds. For years, I've been intensely curious about not only this phenomenon, but also about the ancient epics. Now I've found a transcription of the most famous of all -- the Matay Qara ...download pdf (14.4mb)

Your donations – an American plot?
To dispel rumors that your donations were actually an American plot to buy up Altai land for commercialization, this interview of me by Marina Tyasto was translated into Russian and published in a couple of local newspapers ...download interview (55kb)




This summer!! Get hands-on experience using Earth-friendly technologies.
Work/play with an international group of like-minded volunteers.
Camp at Wounded Knee on the Pine Ridge Lakota Reservation.
(Camping cost, including food, is $100/week/person; bring your whole family!!)

See brochure or website: http:winyanmaka07.webs.com

Can't get away? Then donate to help with the $10,000 costs per dome-home!! Please send donations to:
Christinia Eala, P.O. Box 111, Wounded Knee, SD 57794,
c/o Hobert Spotted Bear,
OR click here to donate on-line (then designate for Lakota by e-mail to carol@AltaiMir.org)

Pilamaye!
Christinia says: Be well, stay strong on your Path. Wicosani to you and your loved ones. ("Wicosani" is a one-word prayer that means to "Walk in Balance with the Four Aspects of Self: the Mental, Physical, Emotional, and Spiritual".)

It is SO inspiring to see the impact that your support is making here in Altai. There is new hope here, which will absolutely translate into hope on the whole planet over the next few years. Altai is where it all starts. Thank you, joyfully and absolutely!
The global campaign to protect sacred Altai land has been successful in two fundamental ways:
We have provided funds directly for land registration of the most vulnerable community members.
Our active concern has inspired Altai communities to gather up hope, and move forward with community self-organization to protect their lands on behalf of the future of humanity.
We are not quite done yet. Completion of land registration in the Karakol Valley, "the Pearl of Asia," still hinges on an additional $21,000 before the end of 2009. Surely, in our global community, we can each contribute to this crucial investment in planetary harmony—monetarily and spiritually. Get inspired by clicking through the three reports! And then take action!

Great news from Svetlana Katynova in Tyungur …
Breakthrough! 126 villagers form a land collective; our funding from last year enables the most needy to join up.
Svetlana and the village administrator join forces and chase out predatory realtor.
This year's funding will protect another village, plus 2 farms that include sacred sites.
Land registration in Ust Koksa region is now manageable with self-financing; next phase, to re-build culture to sustain stewardship resources.
Danil Mamyev keeps working away in Onguday …
Comprehensive mapping of sacred Karakol Valley untangles general chaos around land registration.
International financial support gives villagers hope; now they will proceed with registration.
Our funding also pays the many legal fees enabling title documentation of the most vulnerable parcels by volunteers—it's a huge task.
New federal law provides a potential tool for better indigenous control of sacred lands
Slow but steady progress; full funding of budget needed; looking for $21,000 miracle.
What's a "kurgan," really? Scientific research measures the remarkable energy anomalies of sacred sites in Karakol Valley.

Take action!
Forward this message to your network
Click on the button at top left, and donate whatever you can.
Hold the intention that the sacred Earth is protected and harmony flourishes.
Reports from the Field – April 2009

for more information
....watch "Earth Focus" video about land situation
....what is Altai Mir University, and why Altai?
....find Altai on the map
to participate
Support Altai land integrity
URGENT! This year is the last chance, under current law, to save traditional Altai lands from risk of expropriation for commercial development. Our 2009 fundraising goal of $100,000 will secure thousands of unspoiled acres.
....learn about this year's villages
....see the results of our 2008 campaign
....explore the options as of 2010

Transmit Altai energy into your own space Powerful Altai inspiration is transmitted out to the world through the 52 new visionary paintings Carol made this past year in Altai, about "Heart Opening: Re-Emergence of the Sacred Feminine. Each image is an energy portal.
....view sacred feminine paintings slideshow
....put this energy into your own space

Experience the magic through Altai music
Join us in Altai for the international indigenous music festival, July 15-17, 2009, at the new Altai Cultural Retreat Center in Tyungur.
....read more
....contact Carol for details


Reports from the Field – December 08
The Altai people of Siberia
have held their sacred lands in trust
for the world from time immemorial.

Now, the world has discovered Altai,
and the lands are at risk...

Together we form a global community, saving lands that are sacred to the Altai people and to the world! Thank you!
....why Altai?
....see slideshow of Altai land and culture
This year is the last chance, with current laws, to save additional traditional lands from risk of sale for commercial development. Our people in Altai have committed to doing the legwork to save lands in two more at-risk villages, so our fundraising goal is $20,000. We can do this if you get the word out....learn about these villages



Last year, your $7,000 in donations saved the Kucherla collective, whose land surveying and registration is now in the final phase of the process—getting a court order to force the land official to register their surveyed land. The amount of time, travel, labor, strategizing, courage, and persistence by our volunteer team there has been heroic! Together, we ALL enabled their success.... read the report with photos and maps


And in 2010? One Russian attorney advised, "The new land law allowing public sale of traditional lands is chaos. Nobody knows. Register what you can, now!"....

read about the options
We are the first winners of the new
International Citizen Diplomacy Award
from the National Peace Foundation!
AMU founder and president Carol Hiltner will be awarded the first "Peace Quilts" Award for Citizen Diplomacy by the National Peace Foundation in January. Her daughter Sunny Gagliano will be among the co-recipients....celebrate with us in Washington DC


It was Carol's magnificent 8' diameter, round peace quilts, signed by hundreds of people during the height of the Cold War in the 1980s, that inspired this award....

read the story
Valuable resources are already moving in both directions across the "knowledge bridges" that Altai Mir University is building!